Events in Blaine
Events in Birch Bay
The Birch Bay Polar Bear Plunge January 1st, Noon
Birch Bay Waterfront (approx. 7900 Birch Bay Drive)

Started in 1982 by local residents on a dare, this annual ritual draws hundreds of participants and thousands of onlookers each year and has become a destination spot for New Years Day! Participants come from all over the area, and as far away as Spain, Tokyo, and Dubai to plunge in to the bay's chilly water.
There is no cost to take the plunge, but registration is encouraged because people who do so receive an official "I Took The Plunge" certificate and hot beverages.
Come join hundreds of people from all over the Pacific Northwest and the World and be part of this annual tradition!
Participant's range from children to senior adults. Prizes awarded for costumes!
Learn More...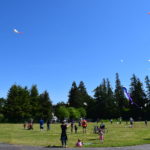 Birch Bay Kite Festival, Saturday & Sunday Check Back for 2021 dates!
Birch Bay Community Library , 7968 Birch Bay Dr.

Bring your favorite kite down to the bay and show it off!  
Learn More...
Saturday & Sunday, Check back for 2021 Dates
Bring your creativity to the beach!  
Friday, Saturday & Sunday, Check Back for 2021 Dates
Discover Birch Bay Days is a weekend full of fun family activities including chainsaw carving, a crab derby,  parade, kids Olympics, as well as vendors and entertainment. Also if you are a Seahawks Fan you won't want to miss out, there is more information coming soon! The crab derby features multiple competitions and prizes while the chainsaw carving competition attracts some of the best carvers in the NW. 
ANNUAL RING OF FIRE & HOPE, December 31st

Revelers begin bringing in the New Year early by lighting road flares along the Birch Bay shoreline, and anyone can participate. This is a spectacular sight as the bay becomes a ring of fire, signifying hope for the coming year.