JANUARY 12, 2021
Due to the restrictions of the Phase 1 "Stay Safe-Stay Healthy" we are currently offering limited fitness classes indoors. Class is limited to 5 people and Masks MUST be worn during the class.  
CLICK HERE for the guidelines
When we are able to re-open in Phase 2, the tentative schedule will be as follow:
ZUMBA with Christina, Mondays at 9:00 am (SS, SF, AARP)
ZUMBA with Melissa, Tuesdays at 6:30 pm and Saturdays at 9:00 am (SF, AARP)
ZUMBA with Dory, Thursdays, at 6:30 pm and Fridays at 9:00 am (SF, AARP)
POUND with Angela: Mondays and Wednesdays, 6 pm. (SF, AARP)
YOGA FUSION with Melissa, Thursdays, at 8:00 am (SF, AARP)
ZUMBA TONING with Natasha, Thursdays, at 9:10 am (SF, AARP)
Must pre-register with office at call or text (360) 656-6416 or online.  We are restricted to a limited amount of people in the class. 
Classes such as Gentle Yoga, Let's Get Fit, and Barre will re-start when we are in Phase 3.  We apologize for the inconvenience.
We accept SilverSneakers (SS), Silver&Fit (SF) and AARP (AARP) Heath Fitness Insurance. Insurance accepted is indicated for each class.
Our unique gymnasium located at 7511 Gemini Street, Birch Bay, houses many types of activity such as group fitness, basketball, pickleball and more.  To see our full schedule, click here...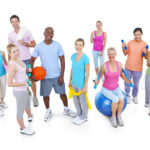 At the Blaine Pavilion, located at 635 8th Street, (Blaine Senior / Community Center) you will find Zumba, Yoga and more...To see our full schedule, click here...
Meet Our Instructors
Meet our dedicated team of instructors who bring their expertise in health and fitness to the many fitness classes held in the Blaine-Birch Bay community.
Angela Biondiollio
POUND • Total Barre • HIIT
Josie Shelton
Christina Winkler
Melissa Salhus
Dory Stack
Megan & Wendy Bloom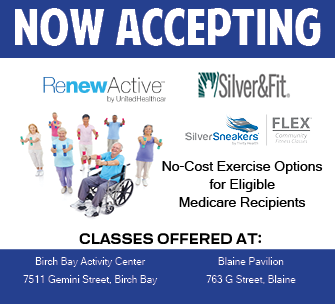 ******
Looking for a class that we aren't currently offering, let us know! We love adding new challenges to our schedule.