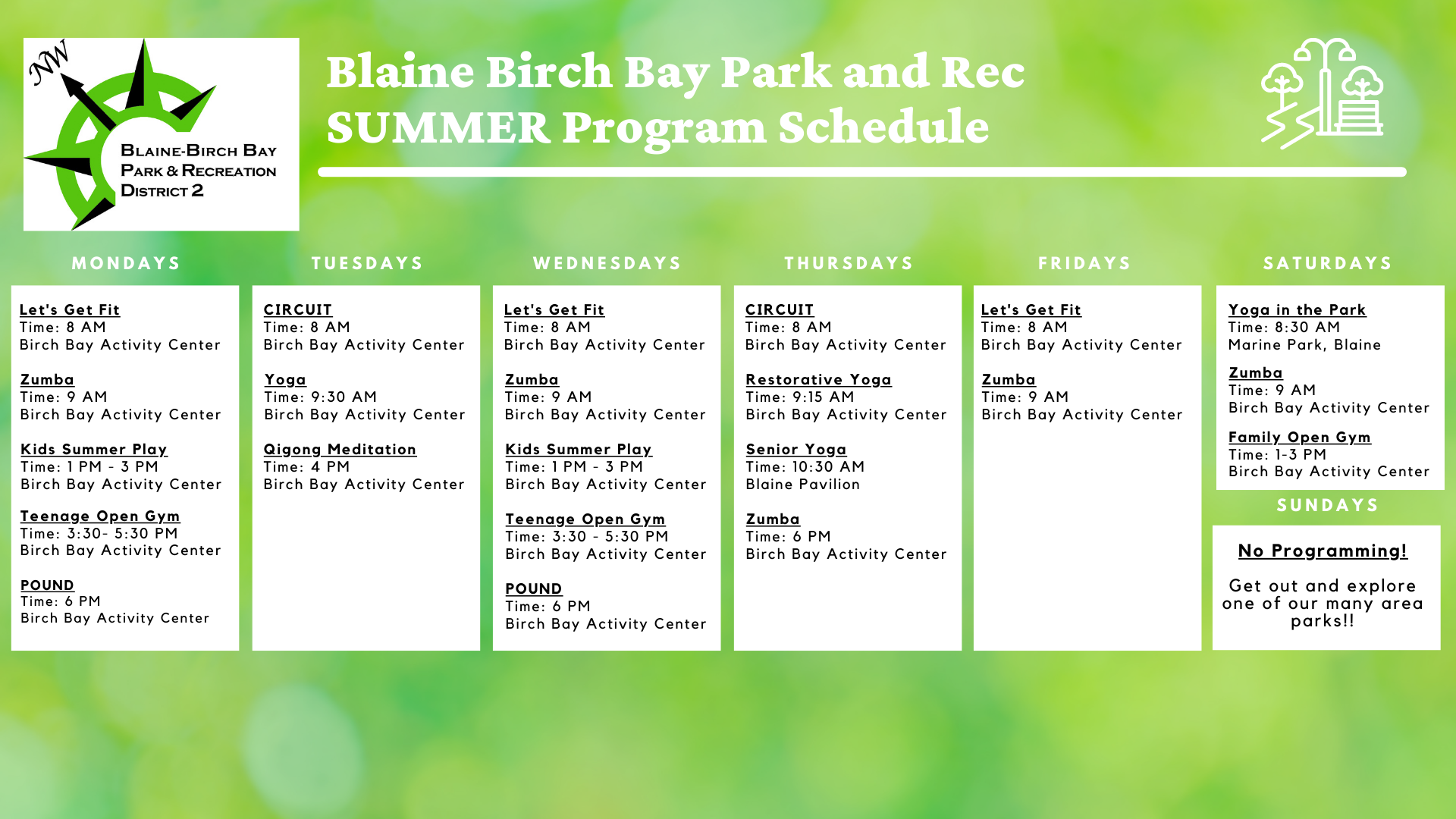 AS OF JULY 26, 2021 - Current Fitness Class Schedule 
Let's Get Fit with Josie, Mondays, Wednesday, Fridays at 8:00 am (SF, AARP)
Early Bird  Get Fit Series, September 7 - October 28, 5:15  - 6:00 am  (SF, AARP)
Let's Get Fit Circuit Training, Tuesdays, Thursdays at 8:00 am (SF, AARP)
ZUMBA with Celine, Mondays at 9:00 am; Wednesdays at 9:00 am; Fridays at 9:00 am (SF, AARP)
ZUMBA with Melissa, Tuesdays at 6:00 pm
ZUMBA with Dory, Saturdays at 9:00 am (SF, AARP)
POUND with Angela: Mondays and Wednesdays, 6 pm. (SF, AARP)
Gentle YOGA with Maureen, Tuesdays, 9:30 am, (SF, AARP)
Qigong & Meditation, Tuesdays, 4:00 pm (SF, AARP)
Restorative Stretch with Melissa, Thursdays at 9:15 am (SF, AARP)
Senior Yoga with Maureen, Thursdays, 10:30 am at the Blaine Pavilion (SF, AARP)
We accept SilverSneakers (SS), Silver&Fit (SF) and AARP (AARP) Health Fitness Insurance. Insurance accepted is indicated for each class.
Our unique gymnasium located at 7511 Gemini Street, Birch Bay, houses many types of activity such as group fitness, basketball, pickleball and more.  To see our full schedule, click here...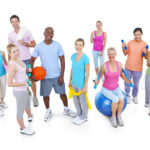 At the Blaine Pavilion, located at 635 8th Street, (Blaine Senior / Community Center) you will find Zumba, Yoga and more...To see our full schedule, click here...
Meet Our Instructors
Meet our dedicated team of instructors who bring their expertise in health and fitness to the many fitness classes held in the Blaine-Birch Bay community.
Angela Biondiollio
Josie Shelton
Megan & Wendy Bloom
Christina Winkler
Melissa Salhus
ZUMBA • RESTORATIVE STRETCH
Dory Stack
Celine Mauger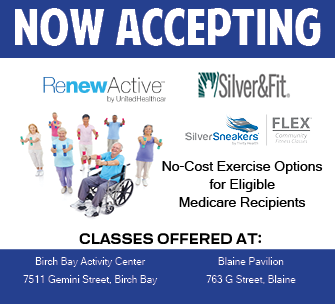 ******
Looking for a class that we aren't currently offering, let us know! We love adding new challenges to our schedule.