POUND
Using RipstixTM - weighted drumsticks engineered for exercise - POUND transforms drumming into an effective full-body workout.
Mon  6:00 to 6:45 pm w/ Angela
Wed  6:00 - 6:45 pm w/ Angela
 $5 drop in fee.
Childcare provided. 
Visit POUND's Website for more...
LET'S GET FIT
In this fun, family friendly HIIT atmosphere you can build strength and endurance using hand weights, bands, and steps. 
Mon  Wed  Fri
Tue Thu - Circuit Class
8:00 - 8:45 am w/ Josie
$3 drop in fee.
BARRE
Pop-up classes happen! 
July 18th, 6:55 PM to 7:45 PM
Sculpt lean and toned muscles with this energizing and dynamic group class. Barre efficiently blends Pilates with dance, cardio and strength-training specifically challenging arms, legs and core to strengthen and lengthen the body.
$5 drop in fee.
ZUMBA
A total workout, combining all elements of fitness – cardio, muscle conditioning, balance and flexibility, boosted energy and a serious dose of awesome each time you leave class.
Mon 9:00 - 10:00 am w/ Celine
Tue 6:00 - 7:00 pm w/ Melissa
Wed 9:00 - 10 am w/ Celine 
Fri 9:00 - 10:00 am w/ Celine
Sat 9:00 - 10:00 am w/ Dory
 $3 drop in fee.
YOGA
Spend an hour flowing in various Yoga poses that bring balance to that field, breath work than enhances the process and ending in a short meditation. 
Tue 9:30 to 10:45 am. w/ Maureen
 $5 drop in fee.
QIGONG & MEDITATION
This class combines the ancient practice of Qigong along with time spent in meditation. This offers the student the
opportunity to come first into gentle body movement with a sense of presence followed by time spent in reflection.
Tue 4:00 - 4:45 pm w/ Maureen
$5 drop in fee.
RESTORATIVE STRETCH
Restorative Stretch is a gentle and therapeutic class appropriate for anyone and everyone! This 45 minute class will relax tight muscles, decrease muscle soreness and reduce chronic pain. In addition to physical benefits, Restorative Stretch also serves to improve mood, enhance well-being and reduces stress and anxiety. Take the time for yourself to experience this class- you'll be glad you did!
Thu  9:15 am with Jen
$3 drop in.
BADMINTON
Open badminton play. All skill levels welcome.  2 courts of play open.
Sun  3:00 - 5:00 pm
$3 drop in fee.
BALLROOM DANCE
This class will resume later in the fall of 2021.
Learn the different styles of ballroom dance with professional instructors. The Waltz, Rumba, Country 2-Step, and more! Each month features a different dance style.
Tue  7:30 - 8:30 pm w/ Megan and Wendy Bloom
$50 per person for 4 week class or $13 drop in.
Class is held each week at the Blaine Senior Center, 763 G St., Blaine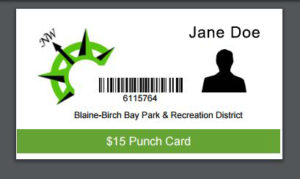 Punch Cards Save Money...
Do you attend classes on a regular basis?  We offer several ways to save you money!  Purchase a non-expiring Punch Card!   For $3 classes, we offer a $15 punch card with 6 punches.  For our $5 classes, we have a $25 card with 6 punches!  
Monthly Passes Available...
A monthly pass for $30 allows you to attend any $3 classes as often as you like during the month.  For our $5 classes, the fee is $40 and if you attend both $3 and $5 classes, there is the $50 option.  
NOTE: Passes start the first day of the month to the end.